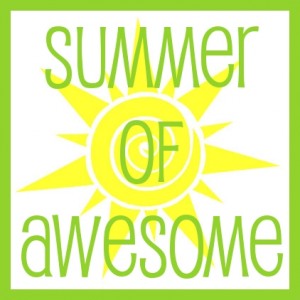 School is out and summer has officially arrived. I love summer because the days are longer, the weather is warm and many a day is spent outside with the kids being more active than during any other season.
As you may recall, for the past few years I have participated in the Summer of Awesome, a fun summer activity initiative created by Lynn at Diary of a Turtlehead. We are so lucky to have so many beautiful parks, entertaining festivals, fairs, and events in the Ottawa area that's not hard to make summer awesome in the Nation's Capital.
This year's Summer of Awesome includes some places we have visited before and loved so much that we want to see again, while others are new. Here are the places we want to visit/do this summer for our Summer of Awesome!
1. City of Montreal – exploring the Old Port, cobblestone streets and enjoying the busy city
2. Biodome
3. Sunset Ceremonies- RCMP Musical Ride
4. Ottawa RibFest
5. Mont Cascade
6. Canada Agriculture and Food Museum
7. Altitude Gym – Clip 'N Climb
8. Granby Zoo
9. Ayers Cliff Fair
10. Lombardy Fair
11. Parc Omega
12. Vintage Wings Over Gatineau
13. Busker Festival – Ottawa
14. Casino du Lac Leamy's Sound of Lights (Fireworks)
15. Marche des Brasseurs at Hendrick Farm
16. Exploring the NCC Gatineau Beaches – Lac Leamy, Meech, Lac Philippe (so many wonderful spaces to choose from!)
What's on your Summer of Awesome list?