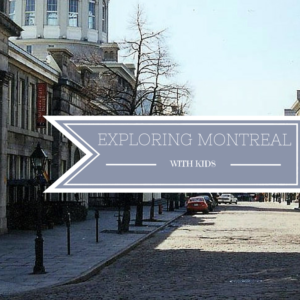 Montreal, Quebec is my family's home away from home. My husband was born there, as a newly in-love couple we spent a lot of time there, and as our family has grown, we continue to enjoy all that Montreal has to offer. There is always something going on and things to do in Montreal.
In the past we have travelled to Montreal by train. It's a lot of fun, cost-effective and fast! When we travel by train the kids really enjoy it, and you end up right downtown which is very convenient.
This time, thanks to GM Canada, we drove to Montreal in comfort and style in a 2015 Acadia Denali. With two rows of seats in the back, the kids loved the flexibility of getting to decide where to sit. I loved that they had a lot of room to call their own; however with three children under the age of five, I believe the GM Acadia Denali would make for an even better vehicle for families who have older children and don't have as many bulky car seats. I could definitely see us driving this vehicle in a few years once all the kids are in the booster seat phase.
The GM Acadia Denali was an extremely smooth drive and I loved the "kick" it had to it. Truth be told I like driving something with a little power and speed. The 2015 Acadia Denali has both and it made for a smooth ride for both highway and city driving. Also, the Rear Cross Traffic Alert and Side Blind Zone Alert were definitely helpful to manoeuvre through the otherwise confusing streets of Montreal.
If you are thinking of taking a family trip to Montreal, you should know that it is not extremely stroller friendly (subways, stairs to go into buildings, narrow doorways, and numerous cobblestone streets can make manoeuvring a stroller frustrating and difficult). It's for this reason that I recommend baby wearing – we love to baby wear when we are in Montreal with little ones in tow!
There are tons of things to explore and do in Montreal with kids. There are many parks throughout the city and our kids love travelling from park-to-park to experience different ones. It's one of our favourite things to do!
Another thing we enjoy and always do when in Montreal is visit the Biodome. Among the many things there is to do at the Biodome, my oldest and I enjoy spending special time together watching the penguins. Tip: if you live in Quebec, the Biodome has a fantastic family membership price.
The Montreal Science Centre also provides hours of fun, with lots for kids to explore, see and do; and it is free for those who have an Ottawa Multi- Museum Pass.
On special trips the kids' love taking a horse-drawn carriage ride throughout Old Montreal. They took one this trip with very special friends of ours and the kids had a blast. It's a great way to see the beautiful architecture and history of Old Montreal.
This is the first time we decided to forego hotels and we used Air BnB. We had a lovely experience and definitely appreciated the space we gained by staying in a two-bedroom condo on the Plateau Mont-Royal. Staying on the Plateau also ensured that we could walk right out the door and have access to numerous fresh food markets to get the kids breakfast and a variety of restaurants that aren't your typical chains. I did have to get over the fact that we were staying in somebody else's house, but I quickly got over it and, in the end, we loved our time in the space.
This time while in Montreal I attended Gena Kirby's Rebozo Workshop and it was FANTASTIC! Look for some fun and new Little Lotus workshops coming up that will incorporate what I learned!
Have you been to Montreal with your family? What is your favourite thing to do or see while there?
*Disclaimer: GM Canada provided us with a vehicle for this trip, but as always, opinions are my own.