Thanks to our Little Lotus Yoga participants who have sent us posts on their class experiences!
Heather Olszewski
Ottawa-based postpartum doula and prenatal educator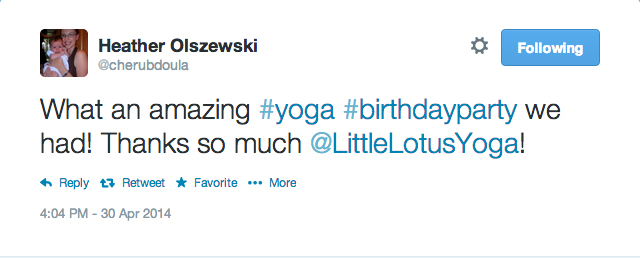 Deanna
Always on the lookout for new and exciting "Mommy and Me" things to do together, my greatest challenge was to find an age appropriate activity for my 5 year old that was noncompetitive, could hold her attention long enough, and one that both my daughter and I could enjoy together. I was thrilled when I found Amanda's "Mommy and me" yoga class. Amanda has an amazing ability to weave stories with our bodies and minds in a flow that encourages creativity and is a great release for both my daughter and I. Where else can you bark in the dog pose, hiss in the cobra pose, meow in a cat stretch or stand strong and tall like a tree – and have it feel perfectly natural?In addition to the obvious benefits of exercising, Amanda's yoga classes have helped my daughter become aware of herself from the inside out and I have never felt more relaxed than after a class. And the best part? We are doing it together.I plan to continue to explore other classes Amanda offers for years to come. They have helped inspire my daughter's imagination, improve her concentration and focus, and develop relaxation techniques – all of which, I truly believe will help her navigate life's challenges with a little more ease.
Shirley Hamm & John Robertson
Our 2.5 year old son came home from his first Little Lotus Yoga class with Amanda eager to show us his tree pose. He continued to learn new things like butterfly pose and table pose, how to notice his breathing, and how to chant OOOOOmmm! He loved Amanda's positive, gentle and fun approach, and as parents, we loved her nurturing and supportive teaching presence. We have all benefited from his ability to calm himself with breathing, and to quietly chant with his hands in prayer pose when he wakes up (too) early!! Thanks, Amanda!!!
Maria
Participant in our Little Lotus Parent & Tot Program
Gabrielle engages all the children in their yoga practice through song, story telling, and other creative ideas. My daughter loves the class and her teacher too. I haven't seen her respond the same way while participating in other activities. She really wants to be involved in what's happening in the class. I have struggled with getting back into shape and strengthening my muscles after my C-section. Participating in the class has been a gentle push in the right direction. Gabrielle is very knowledgeable and provides guidance on exactly what and what not to do for my situation. The parent and tot yoga program truly incorporates the needs of both child and parent.
Thank you so much Amanda for creating a wonderful program!