It takes a village to raise a child, but it also takes a village to grow a child. In addition to a primary care provider, most expectant women will make use of alternative care services to deal with a range of pregnancy symptoms. Understanding the scope of practice of these alternative care providers can help women to determine what services they feel would help ease their symptoms.
Remember that the majority of these services are not covered by provincial health care plans. However, many people have access to employee health benefits; check your health benefits plan to see what might be covered.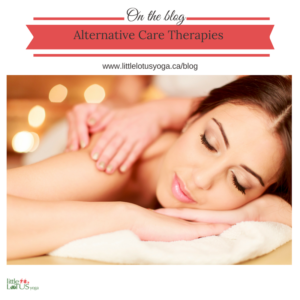 Naturopathic Doctor (ND)

NDs are alternative healthcare providers that combine scientific knowledge with alternative or traditional forms of medicine. NDs use a wide range of alternative practices including homeopathy, acupuncture, herbal medicine and nutrition. They have trained in similar ways as conventional doctors, but do not prescribe pharmaceuticals or perform surgeries. Many pregnant women can find support for a whole host of pregnancy-related issues, from fertility problems to morning sickness.
Registered Massage Therapist (RMT)

RMTs are care providers who perform hands-on manipulation of the soft tissues in our body – muscles, as well as connective tissue, tendons, ligaments and joints. Many RMTs provide prenatal massage to expectant women, and some own special pillows that allow you to lie on your stomach. Massage has many benefits in pregnancy, and can help with circulation, relaxation, and can relieve stress for those overworked muscles and joints.
Homeopath

Homeopathy is an alternative system of medicine that was developed by a German doctor in the early 1800s. Homeopaths provide their clients with highly diluted doses of substances to stimulate healing. Many midwives make use of homeopathic remedies such as Arnica, to help with healing after the birth. Some homeopathic remedies can be purchased at major drugstores, but there is also the option to see a trained homeopath for a personalized care plan.
Chiropractor

Chiropractors assess conditions of the body in relation to the spine, nervous system and joints. Treatment is usually in the form of "adjustments," where your body is gently manipulated. Some chiropractors specialize in prenatal care, and can assist women with proper alignment so that baby can get into the best position possible for birth. The "Webster technique" is an adjustment that some chiropractors use to encourage breech babies to turn head down.
Acupuncturist
Acupuncture is one component of Traditional Chinese Medicine, where thin needles are inserted into different points of the body. The process is typically not painful, and pregnant women have reported benefits with respect to morning sickness, migraines, and back, shoulder or pelvic pain. Some acupuncturists also use points on the body to stimulate labour when a woman is past her due date.
Osteopath
Osteopathic medicine treats diseases and disorders through the manipulation of muscle, bones and joints. While a chiropractor is primarily focused on the spine, osteopaths look at the entire body. However, both practices often overlap. Make sure to ask the care provider about their philosophy and mode of treatment.
Doula
Birth doulas provide non-medical support to laboring women and their partners. This can include emotional support, physical support (including comfort measures) and information for decision making. Postpartum doulas tend to the new family in the days and weeks following the birth, and provide help with breastfeeding, newborn care and light housekeeping duties.
Lactation Consultant

Lactation consultants (IBCLCs) are certified care providers that have been trained to diagnose and treat breastfeeding issues. They have trained for thousands of hours with moms and babies, and have completed many university credits in science and biology. Most lactation consultants are not covered by health benefit plans, but many hospitals and public health departments hire IBCLCs to provide new mothers with free support.
Pelvic floor physiotherapist

Pelvic floor physiotherapists provide care to women at any life stage, but focus especially on women who are pregnant or postpartum. Pregnancy can change muscle tone, and childbirth can sometimes lead to various forms of prolapse. Pelvic floor therapists will do gentle internal exams in a safe environment, and provide guidance on how to strengthen or loosen muscles in the pelvic region. With at-home exercises, most women's issues have resolved after 4-6 appointments with a physiotherapist.
Given that some medications are contraindicated during pregnancy, alternative therapies can become essential for women who are dealing with adverse symptoms. Although some therapies lack scientific evidence for their effect, many women are willing to give them a try. To find a reputable alternative caregiver, chat with friends and family to find out who they would recommend – often, word of mouth is the best way to find someone you can trust.