My kids are huge amusement park and water park fans and have been to many over there last 7, 5, and 2 years of life! So of course they were excited to be invited to Calypso Water Park for a day of summer fun in the sun.
We are currently living in Montreal and Ottawa (yes, one week in one city and then we switch to the other) so we pass Calypso at least twice a week and the kids have always been intrigued and keen to visit.
We arrived at Calypso on a Monday at 10a.m. for opening and it was a beautiful day with the sun shining! The whole day was a beautiful sun shining day and the we had an absolute blast until we left at closing at 7p.m.! My only regret so far? Not visiting the place numerous times already!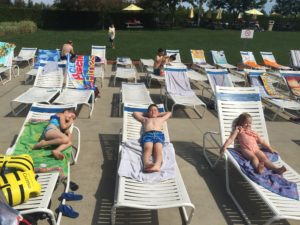 Thinking of heading to Calypso? Here are some things you will want to know before you arrive:
You can bring your own food and beverages in to the park (Just no glass or alcohol) Don't want to bring your own food? There are tons of options on site. I was happy to see some salad to go with our lunch after visiting many amusement parks and fairs all summer.
There are tons of chairs and picnic tables! I was worried that chairs/tables would go quickly like they do at many parks but there were a lot of options for everybody.
Want your own private area? Reserve your cabana ahead of time so it is booked for your arrival.
Lifejacket rentals for the kids are FREE! You just need to provide i.d. to leave on file while you use the lifejackets. This was perfect for our 2 little girls on some of the slides without us having to lug around all of ours.
There are lockers on site to store your personal belongings.
Babies are definitely welcomed! There were a ton of babies sleeping in carriers on their parents, in strollers and even in little rockers by the pools. 
The kids area is definitely one of the largest kid friendly areas I have seen before and the water in this part is very warm.
Kids under 1m are FREE! My 2.5 year old is quite tall for her age (38 inches) and her admission was free. Thinking back to when I had my first two and they were 22 months apart this would have been the perfect place to spend many days and only pay for my adult admission!
There are so many things to do that you will definitely not be bored! Plan to spend the full day here and come back again and again!
Our faves from the day?
I LOVED the Kongo Expedition. But they aren't lying when they say "hold your glasses" I think I lost them somewhere along the middle of the journey 😉 My big and smallest kiddos went on this a second time (yes, our 2.5 year old is a dare devil!). This ride is definitely not what I expected it to be while we were standing in line and I was pleasantly surprised with how much fun and how adventurous this water ride was! 
The kids LOVED Jungle Run. I think at one point we went around the lazy river four times in a row! It was a great way for us adults to relax a bit while the kids were still in arms reach at all times and didn't have to do any work to keep swimming.
Zoo Lagoon had amazing water temperatures and my two girls could have spent the whole day here. Surprisingly my 7 year old was also very happy to spend time here too.
My biggest babe, who is 7, could have spent the whole day at the Jungle Challenge. He even convinced daddy to give it a try.
Admission is priced fairly compared to many similar places and we are definitely thinking about getting an early summer season pass for next year! We have friends who do this every year and take advantage of the season pass early bird pricing.
So, do you want to go for a visit too?!
We are excited to offer 1 Family Pack (for 4 people) for day admission. 
How can you enter? Visit our Facebook page to enter this giveaway!  Contest will close Friday August 18th at 12p.m. and the winner will be announced Friday afternoon.