The lowdown on breastfeeding and your menstrual cycle
There is a lot of misinformation about ovulation, menstruation and breastfeeding. This can lead to confusion (and perhaps even an unexpected pregnancy.) The following are some of the common questions women have about breastfeeding and their cycles.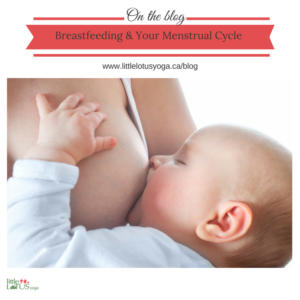 Can I get pregnant while breastfeeding?
The short answer is yes. A common myth is that any amount of breastfeeding can help to prevent pregnancy. In fact, mothers must be exclusively breastfeeding their baby, and need to meet the following criteria in order to use breastfeeding as an effective (98-99.5%) method of birth control:
Baby is less than 6 months old
Menstrual periods have not returned
Baby is getting nothing but breastmilk (no water, no formula, etc.) and baby is being breastfed on cue, night and day (not scheduled or limited in any way)
As soon as one of these three factors is no longer the case, it's entirely possible that a new mother will be ovulating, even if she has not yet seen her periods return.
Menstrual periods are not supposed to return until my baby is older
Sadly, this is not true for all women. The time when menstruation begins after a baby has been born is variable – the average is around 14 months. Some women will not see a period until their baby is over one year old, and others may find their period returns after two months. However, most mothers who see their periods return early are not yet fertile. Having a cycle without ovulation is most common in the first six months postpartum. Mothers should still take precautions against pregnancy if that's what they desire.
My period has returned, but it's irregular. Is this normal?
Women who are breastfeeding will often experience irregular periods. Menstruation may be shorter than normal, or cycles may skip a month. Breastfeeding releases hormones that can affect how a woman's body moves through her cycles, and ovulation or fertility can also be affected. This is entirely normal, and very common.
My breastfed baby seems fussy while I'm menstruating, and wants to nurse more (or less) frequently
Some women do report a dip in their milk supply while menstruating (or even in the days leading up to menstruation.) They notice that their babies want to nurse more often (or sometimes less often,) and seem less satisfied by the amount of milk in a feed. This drop in supply is due to hormonal shifts that occur before menstruation begins, but is usually temporary.
Women who have had milk supply challenges may find the drop in supply becomes more of a problem. A lactation consultant can be consulted, as there are often supplements that can assist with the effects of hormonal changes during menstruation.
What kind of birth control should I use while breastfeeding?
Birth control that contains estrogen has been linked to low milk supply, so most doctors will recommend progestin-only contraceptives (e.g. an IUD such as Mirena.) Anecdotally, some women still report experiencing supply issues with these types of contraceptives, so it's important to listen to your body and make an informed decision.
If hormonal birth control is not a good option, new mothers may want to consider using condoms or other non-hormonal contraceptive devices.
Remember that everything is normal when it comes to breastfeeding and your cycles – women's bodies are all individual, and each new mother will have a different experience. If you have questions or worries about your cycles, it would be best to consult with a certified lactation consultant.