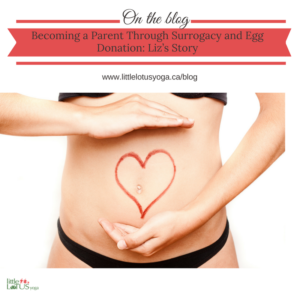 Becoming a parent through Surrogacy and/or Egg Donation was not what I pictured for building my family. This is usually the case for the heterosexual Intended Parents we work with. These couples usually turn to Surrogacy and/or Egg Donation after years of fertility treatments or because they have medical conditions which do not allow them to conceive without the assistance of third party reproduction.
In 2006, when I was 24, I was diagnosed with cervical cancer. It was a devastating blow and altered the course of my life. Finishing school, starting my first 'real' job, enjoying life and just starting to figure out who I was quickly turned into to hospitals, pathology reports, chemotherapy, some pretty invasive surgeries, all topped off with some pretty grueling radiation. Much like other young adult cancer survivors, I deal with ongoing side effects and symptoms from the treatment that saved my life over 10 years later.
Side note to all mothers – consider the HPV vaccine! I would never wish this on another young woman! Do the research and make an informed decision about the vaccine for your daughters. Nearly all sexually active people contract this virus that can cause cancer and now it can be prevented. Rant over. 
During my treatment, I would see other women around my age and I would wish I could just escape into their lives for an hour. Just not think about cancer, tests, and what organs I would get to keep at the end of this for an hour. If there was an end to this. I could think about what I was going to wear out that night, or if I should call that guy back, or even just go do something on my own without having to tell anyone. In hindsight, I'm sure these women had their own major worries too, but I was so caught up in mine, I couldn't see that. I remember going to get my hair cut short before my chemo started, and the stylist asking me questions about my life like she would any normal 24-year-old. I started to lie. In that moment, I just could not deal with the look of pity I knew I would see if I said I had cancer. I just needed to sit there and pretend I was a 'normal' 24-year-old. I pretended I was a legal assistant. I had an apartment downtown and a roommate and was dating a guy, but I wasn't sure it was going to work out because I wanted to travel and he really wanted to settle down. That hair appointment was my own little vacation from my life.
Before starting treatment, I was able to freeze 19 eggs. Fertility preservation gave me a huge ray of hope during this very difficult time. My future babes were on ice and I could just focus on my treatment knowing I had done everything I could beforehand to be a mama one day, even if I would likely have to use a Surrogate to do so. I went through surgeries, chemotherapy and radiation. And then it was over. No fanfare, no bell-ringing like you hear about. Just over. See you in 3 months. Then 3 months turned into every 6 months. And before I knew it years had passed. Now it is over ten years. It doesn't feel like any of it really happened some days.
 My Journey through Egg Donation and Surrogacy 
After I had been cancer free for about 2 years we decided to try to use my eggs. I had met my then fiancé and knew more than anything I wanted to be a mama. We tried thawing and fertilizing my eggs with very high hopes. Someone I knew even stepped forward to be our Gestational Surrogate. Sadly, despite 2 transfers, none of the Embryos implanted. Egg freezing was still so new and the Embryos made were not high quality and were very fragmented. We decided to move on to Egg Donation. Unfortunately, the woman who had stepped up to be our Surrogate was not comfortable with the idea of Egg Donation. So we would now need to find someone else for Egg Donation, but also a new Surrogate Mother. Peaks and valleys, my friends.
It is crazy how many people asked me: "Why don't you just adopt?" The problem is, adoption is not the easy process many people assume it to be. If it were a viable option I would have pursued it. Countless healthy Canadian couples are on waiting lists to adopt children domestically and internationally. And people are denied all the time from the adoption process because of issues far less serious than a history of cancer. That combined with the fact that I was already working in Fertility (I founded Fertile Future after my own cancer experience to provide low cost fertility preservation services to cancer patients) made Surrogacy and Egg Donation the best option for me.
I found my Surrogate independently online. She was wonderful from the beginning to the end of the process. Finding an Egg Donor was a lot tougher for us. We hit a lot of road bumps but later in 2010 the most amazing profile came our way and I just had this strong feeling she was our Egg Donor. Our transfer was in March of 2011 and it worked! In November, my beautiful baby girl was born and my life changed forever! I am the mama to this little amazing soul who has taught me I can love so much more than I ever thought possible.
It's a selfless act to become a Surrogate or to think about Egg Donation. It takes giving, kind and extraordinary women who are willing to sacrifice their time and their bodies to help make someone else's dream of having children come true. I can't – and don't want – to imagine what my life would look like if these two women hadn't stepped forward to help someone less fortunate than themselves. They both gave the most precious gift possible to someone who had the misfortune to experience infertility. It sounds funny, but they made it all ok. At the end of the day, everything I went through doesn't matter anymore. All that matters is my girl is here.
If you have ever considered becoming a Surrogate or want to learn more about the Egg Donation process, please reach out to us. We would love to chat with you!
Read Liz's full bio.