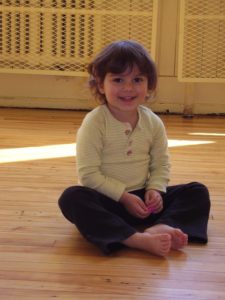 Little Lotus Yoga™ is the longest standing company in Ottawa specializing in children's yoga, starting out over 10 years ago with our first class in New Edinburgh. We now offer over 35 weekly classes throughout the City of Ottawa in community centres, at local schools, and private facilities and homes, bringing yoga to all ages and stages of life from conception (Prenatal), through infancy (Mom & Baby, Parent & Tot, Preschooler), childhood (School Age, Family), and all the way up to adulthood (Hatha, Power, Yin). Little Lotus Yoga™ continues to expand, while offering the same quality classes and instruction.
Our instructors, who all have specialized training in understanding and meeting the needs of children, are well-recognized in the National Capital region as being 'the best of the best' offering top-rated programming. We consistently receive positive feedback from our participants. In fact, there are many families who contact us asking when and where a particular instructor will be teaching their next session, so they can register in advance.
In addition to offering yoga classes, Little Lotus Yoga™ is available for events, as well as training sessions and workshops in Eastern Ontario & Western Quebec.
Move your body, free your mind and let your spirit soar with Little Lotus Yoga™.
We look forward to seeing you at a class or training soon!
About Our Founder
Be empowered by Amanda DeGrace, respected fitness professional & yoga teacher in the fitness and wellness industry. Energy, charisma and an amazing passion for life are qualities displayed by Amanda in both her everyday life and her yoga and fitness and movement classes.
Besides her dedication to continuous education and learning, Amanda enjoys working with her clients and fitness professionals enhancing their overall quality of life through enrichment of the mind, body and spirit. Amanda is currently teaching throughout the City of Ottawa, as well as presenting and training across Canada.
Amanda has been sharing her passion since a young age, starting out as a Trainer for the Lifesaving Society of Canada and moved forward within the fitness industry and finally discovered the power of yoga which has lead her to where she is today. This eagerness to learn and enhance the mind, body and spirit lead her to the health and fitness industry, and became actively invovled in the fitness & yoga industries.
Amanda has combined her love for aquatic and fitness with her business DeGrace Energetics. DeGrace Energetics develops, implements and coordinates specialty programs, with current emphasis on their Little Lotus Yoga program for Children, ages 2-12, and Hatha, Yin & Power yoga classes for adults. Be inspired and empowered as Amanda shares her enthusiasm to keep moving, keep fit and keep it fun!