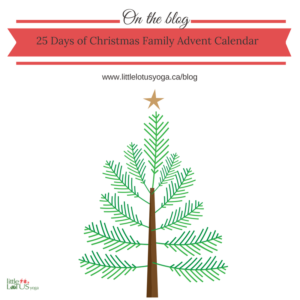 Well it's that time of year again and the count down is on! The countdown to Christmas has started and so has my family's #25daysofchristmas advent calendar that was started by my friend Andrea at a Peek Inside The Fishbowl.
This is our 8th year participating and I love looking back over the years that we have been doing this activity! When we started my oldest was just a wee little baby!
My children are so eager when they wake up every morning and get to open up the special envelope to see what their special activity is for the day.
This year we have the following activities planned:
Letters to Santa
Christmas Movie & Pizza Night
Pick Out Christmas Tree (we get a real one!)
Decorate Christmas Tree
Special Dessert
Go for a drive to see all of the Christmas decorations!
Santa Parade
Bingo + Pizza Night (this is a special school outing!)
Decorate Gingerbread Houses
Holiday Baking
Family Game Night
Pick out gifts for your siblings
Visit Santa
Pancakes for dinner
Make Paper Snowflakes
Make Playdoh
Make Milkshakes
Decorate Wreaths
Make a paper garland for thankfulness
Christmas Movie + Pizza Night
Stay up late! (so, in our house that means 7:30p.m. lol!)
Make Christmas Ornaments
Get a special treat at the coffee shop
Open 1 Present
It's Christmas!
You can DOWNLOAD the graphics for these activities and put them in your own special envelopes to do your own #25daysofchristmas!  Just click HERE
Happy Holidays!